Heiner Muller – Writer, poet, director
In Terzopoulos' theatre myth is not fairytale, it is condensed experience; the process of rehearsal is not the performance of a dramatic concept, it is an adventure on a journey to the landscape of memory, a search for the lost keys of unity between body and speech, the word as natural entity.
2 June 1987, Berlin
photo: October 1986, Dimitria, Thessaloniki
Tadashi Suzuki – Director
His work expresses the essence of tragedy in an original and contemporary way. That's why I strongly believe that his work and its underlying ideas must be relayed to coming generations. At present his work is recognized in all five continents.
2 April 1994, Tokyo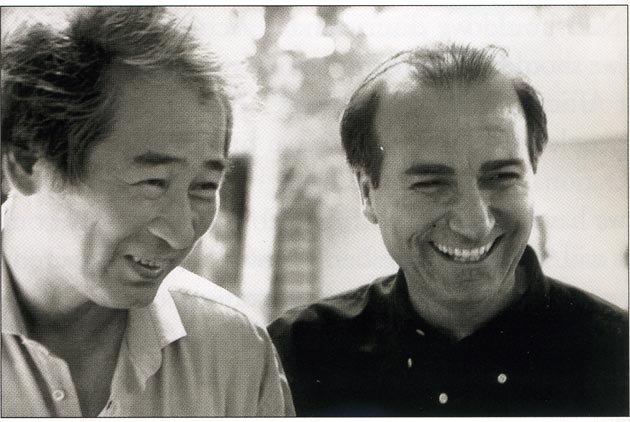 photo: June 1999, 2nd Theatre Olympics, Shizuoka, Japan
Bob Wilson – Director
For your work for which I have seen Bacchae descent.
You see, seeing is seeing a picture true through many pictures.
That is what I still remember clearly with a space to remember and think.
That is for me what makes this work so special.
5 December 1999, New York
photo: June 1986, 2nd International Meeting of Ancient Drama, Delphi
Sergei Paradjanov – Film director
Energy, flexibility, divine dimensions and mystification were rendered before us. We were witness to a real miracle. Even without words, the performance had great power of expression.
30 May 1989, Tbilisi, Georgia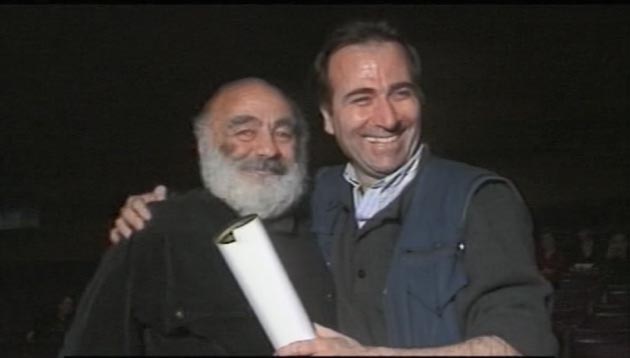 photo: June 1989, Tbilisi
Yuri Liubinov – Director
Shock, Pathos, Catharsis. With these three words I wish to express my view of Theodoros Terzopoulos' theatre, which has been internationally recognized for its important propositions, especially in its approach and interpretation of Greek tragedy.
With the flame of his talent he is a true artist producing that unique energy which is indispensable for Art, Catharsis and Divine Purity.
11 December 1999, Moscow
photo: January 1993, Taganka, Moscow
Alla Demidova – actress
Terzopoulos is considered to be one of Europe's most important pioneering directors, especially for his important research in the ancient Greek tragedy. His performances combine the archaic with the modern.
As soon as the curtain opens, without knowing the director, you immediately understand that it is a play directed by Terzopoulos. This is the Maestro's seal.
10 November 1999, Moscow
photo: June 2014, Tchaikovsky Perm Opera and Ballet Theatre, Perm, Russia
Jannis Kounellis – visual artist
Terzopoulos conveys the Great Ideas of ancient tragedy through poetry, pathos and modernite. Since 2002, that we first worked together, we have created a common language in what concerns the elementary principles of art.
July 2010, Eleusis, Greece
photo: September 2009, Solomeo, Umbria
Ernesto Sabato – Writer
I was surprised by the unfolding of scenic time; as it expanded, dramatic intensity of the characters became all the more compact stressing their agony before death. Their means of expression seemed to be determined by an unknown, unrelenting power.
It was a passage from life to death, rendered in a uniquely poetic and magical way, found only in the deep-reaching performances of great civilizations.
19 March 1994, Buenos Aires
photo: March 1994, Buenos Aires
Etel Adnan – Writer, Painter
The method of Theodoros Terzopoulos is Socratic: the belief that we all bear the past, our ancestors and we share a collective memory engraved not only in our mind, but also in our body.
15 June 2006, Paris
photo: August 2006, Attis Theatre, Athens
Rafael Alberti – Poet
Terzopoulos gives new life to the key question in the core of Euripides' tragedy concerning the Mystery of Death, which, however, contains a perspective of life.
He uses ancient drama as a tool to communicate with people. His performance is not addressed solely to its aydience, but also the philosophers, psychoanalysts and all those who are concerned with the vital problems confronting humanity today.
15 July 1986, Merida, Spain
photo: July 1986, Merida, Spain
Tony Harisson – Poet, Playwright
I remember in Delphi over twenty years ago enthusiastically defending a production by Terzopoulos against a very conservative critical outcry. It was the first production I had seen by this extraordinary director, whose work has continued to thrill me. What distinguished the performance and made it stand out from the more traditional productions was its incredible disturbing physical energy. And these are the moments where the theatre of Terzopoulos is at its most thrilling and disturbing, a kind of liturgy in speed.
5 October 2005, London
in the photo: Tony Harisson, Tadashi Suzuki, Bob Wilson, Nuria Esper, Theodoros Terzopoulos, Tokyo, 1995
Jan Fabre – director, choreographer, visual artist
I believe that Terzopoulos is a great theatre artist and I respect him as someone who is obsessed with art. His respect and love for art can inspire an artist regardless if the age. I feel like a beginner artist next to him.
Antwerp, January 2016
photo: February 2016, Troubleyn, Antwerp
Eckehart Schall – Actor, protagonist of Berliner Enseble
Terzopoulos has experimented with an entirely new approach in his attempt to discover new forms of expression. The result of his research which we experienced during his performance of the Bacchae was authentic and original. He transforms the experience of actors and audience into a religious experience, as used t be the case in ancient times when sacred celebrations always began with ceremonies at the Altar of Dionyus.
23 January 1987, Berlin
Manfred Wekwerth – Theatre Director, Artistic Director of Berliner Ensemble
You get the feeling that there are ancient sacred memories inscribed within the bodies of the actors dating from a time when the theatre had a religious character. The interesting point in the performance is the way in which the religious dimension of tragedy is illuminated, where the gods are represented as men and man attempts to become god.
22 January 1987, Berlin
Erika Fischer Lichte – Writer, Professor
Terzopoulos' production of the Bacchae, with the powerfulness of its effect, could certainly be compared to rituals – but without postulating or even carrying out the erasure of every difference between theatre and ritual. With this achievement, the performance did in fact write theatre and cultural history.
May 2005, Berlin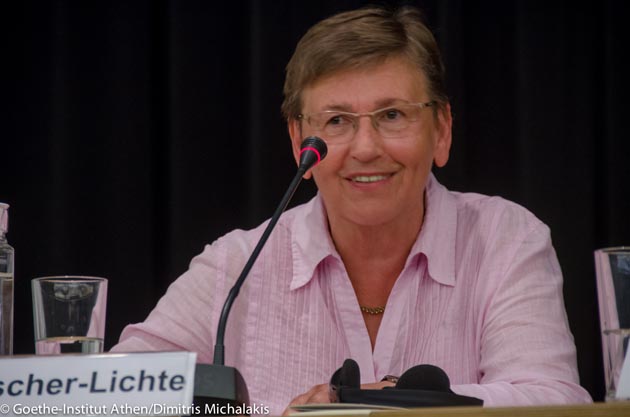 photo: in the presentation of the German edition of the book "The Return of Dionysus", June 2016, Goethe Institut, Athens
Helene Varopoulou – Writer, Critic
Theodoros Terzopoulos shook the Greek theatrical landscape in 1986 with his production of the Bacchae. His presentation was a radically groundbreaking initiative advocating the disengagement of tragedy from the scenic bonds of traditional interpretation and established prototypes. For Terzopoulos, tragedy became a field aflame. A field where one can set everything on fire: stereotypes and customs, of actors and audience alike; facilities and certitudes.
May 1999, Berlin
photo: December 1994, Taormina, Italy
Marianne Mc Donald – Writer, Professor of Classical studies
Theodoros Terzopoulos, with his mastery of the body's secrets, reveals mysteries about ourselves, dangerous mysteries. Theatre is nothing, if not dangerous. Basically, Terzopoulos became what every artist should, a monster sacre, dedicated to his individual art and style, which had to be invented from the ground up. Terzopoulos' actors reveal both the heights to which a human being can rise, and the depths to which he can descend. Terzopoulos invites us to see the core, when every mask is shed. Terzopoulos' work is Greek passion in action. Terzopoulos' production of Euripides' Bacchae in 1986 to mark the founding of Attis was a tour de force.
Almost all of Terzopoulos' plays have political commentary and messages which are important for the world we live in. he is ecumenical and international, while remaining fundamentally and wholly Greek. He harnesses rituals and the body's universal memory to create a moving dramatic experience. Terzopoulos' work is always evolving, and is always demanding, both of the actors and the audience. Terzopoulos is the seer who will lead us to new revelations. His theatre is unique, and he is a master. His theatre is a beacon, and a torch to illuminate our hearts.
3 June 1999, Los Angeles
photo: Marianne Mc Donald with Attis group, San Diego
Hans Thies Lehmann – Writer, Professor of Drama Studies
In Terzopoulos' theatre, perhaps the most important protagonist is physical pathos. Physicality and rhythm do not hereby represent a purely aesthetic dimension but an anthropological one. The body language is paradoxically concrete and abstract at the same time in its symbolism. Both extremes and aspects belong together in Terzopoulos' theatre and they bring about the elimination of all psychological interpretation, superficial understanding, immediate rational information, or intellectualization. The dual purpose of the stage as place of ritual and controlled ecstasy makes the acting an autonomous partner of the text. The text is "burned" as it were, in the process to return as the fire of the breathed rhythm.
2005, Frankfurt
Michael Billington – Writer, Critic in Guardian
During my recent visit to Athens I discovered a great director, alike Brook, Grotowski, Suzuki and Wilson. Although I do not speak Greek, Terzopoulos' theatrical "language" is absolutely familiar and comprehensive to me. The power of his performance lies in the visual, acoustic and verbal symbolism of the obsessive nature of two powerful women: Queen Elisabeth A' and Mary Stewart.
January 2011, London